Different Types of ATV Engines
All-terrain vehicles (ATVs) can be equipped with one of several engine designs. Atv engines are available in two - and four-stroke designs, as well as air - and liquid-cooled versions. There are also single-cylinder and multi-cylinder ATV engines used in various designs, which can be carburised or fuel injected, depending on the model. Other variables found in ATV engines include displacement, which is 50 to 800 cubic centimeters (CC) for common engines. While the most common type of fuel used in the engine is gasoline, an increasing number of ATVs are now designed to be electric motor or battery powered, and some are even powered by diesel engines.
Many buyers of the new ATV do not give a great idea of the ATV engine variety to choose from. This may be a serious oversight, however, as ATV engines tend to require the type of ride that will best suit ATV. Early versions of ATV engines were often dual-cycle versions, which required oil to be mixed with fuel. This can be done in one of two ways: by mixing or injecting the dual-cycle oil with the gasoline in the tank. Filling is usually the preferred method, allowing the driver to fill the tank directly from any fuel pump as long as sufficient fuel is injected into the tank.
Atv engines usually require the type of ride that will be best suited to ATV.
The four-cycle ATV engine allows the rider to use gasoline directly from the pump without the need to refuel. This is similar to how an ordinary car engine works. Other advantages of this type of engine are reduced emissions due to pollution, less exhaust gas for the rider to breathe and a wider power band. Unlike two-stroke engines, four-stroke engines provide the driver with a greater power range, which can be found at all points in time by the engine's revolutions per minute (RPM). Two-stroke engines typically have a power band close to the upper mid-speed range, where the engine produces peak power.
ATV engines can be powered by gasoline or even diesel fuel in some cases.
It is common for a particular ATV engine to be offered only in a particular ATV, with no option for the buyer to choose a particular engine in a new ATV. Engines are usually targeted at certain machines and larger engines are placed in the better choice of machines. Four-wheel drive models typically have the largest engines, as the use of these machines is often associated with plowing, pulling, and off-road hill climbing. For example, the LINHAI LH1100U-D adopts the Japanese Kubota engine, and its powerful power makes it widely used in farms and pastures.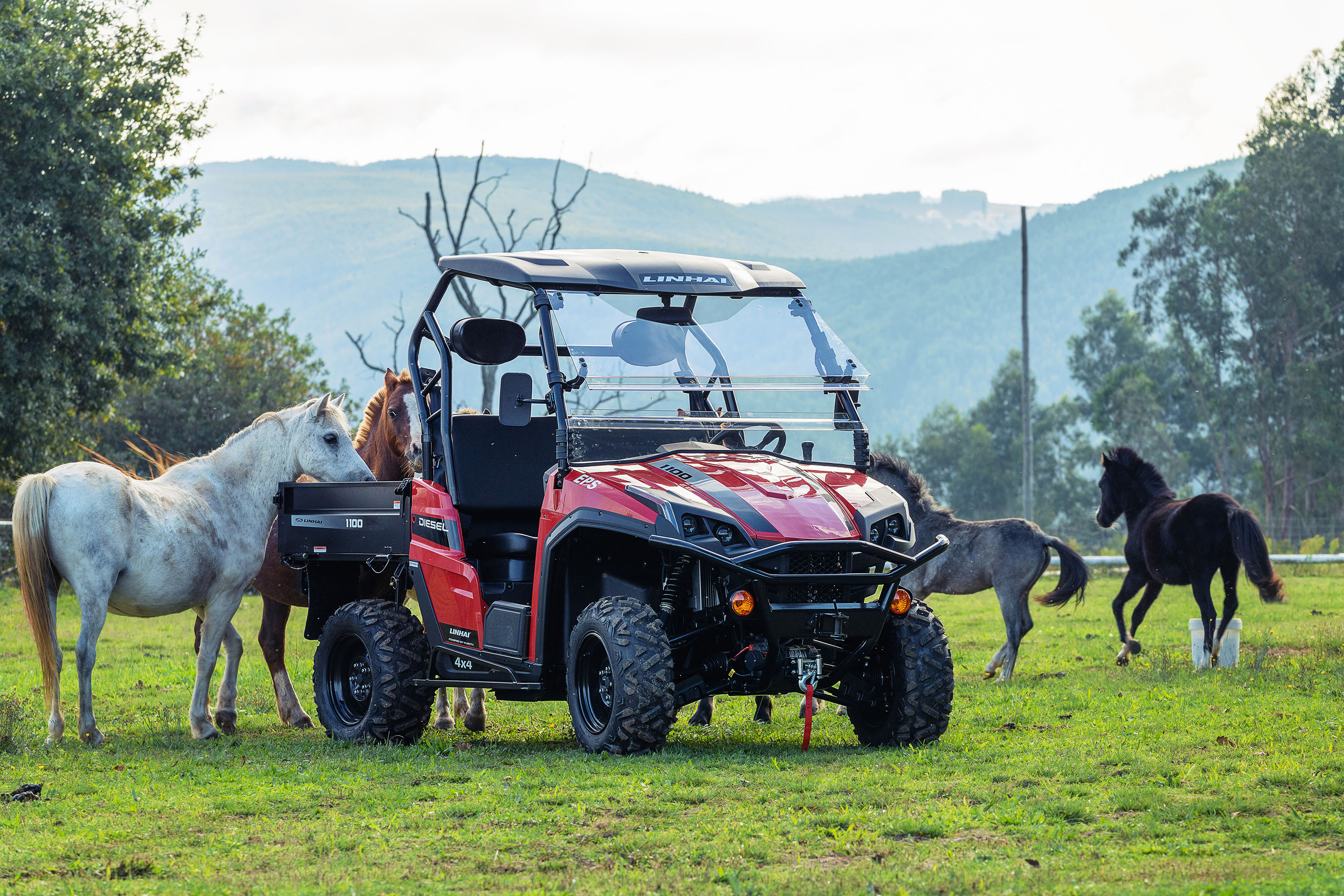 ---
Post time: Nov-06-2022